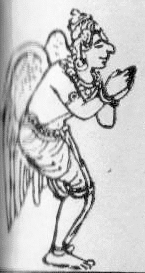 Sri:
Srimathe ramanujaya namah:
Srimathe nigamantha maha desikaya namah:


Sri Ranganatha Paadhuka Sahasram - An Introduction

by Sri. U.Ve. V.Sadagopan







Sri Laksmi Nrusimha Para BrahmaNE nama:
Sri Lakshmi Nrusimha PaadhukhA Sevaka 
Sri Adhi VaNN SatakOpa Sri NaarAyana 
SatakOpa Yathindhra MahA DesikAya nama : 

SrimAn VenaktanAthArya: kavithArkika kEsarI
VedAnthAchArya varyO mE sannidhatthAM sadhA hrudhi 

SrimAn GhaNtAvathArO niravdi- 
mahimA srEyasA Sarva lOkAn
samyOkthum Sri SatArE: sthavanamakrutha 
yO RangI PaadhUsahasram I------


After composing many sthuthis on BhagavAn and His Pirattis and creating many rahasya granthams , Swami Desikan concluded that the challenge set by a jealous Swami for him to compose 1,000 slOkams in one night time period was nothing but Sri RanganAthA's niyamanam to him to compose a grantham eulogizing NammAzhwAr , His Paadhukhai . He felt that the Lord of Srirangam was saying that it is not enough that the sarva tantra svathanthrar had composed BhU Sthuthi , Sri Sthuthi , YathirAja Sapthadhi et al, but he has to compose a sthuthi on Swami NammAzhwAr , His paadhukhai .Thus arose the illustrious SatakOpa sthuthi known as " PaadhukhA Sahasram ". The challenger of Swami Desikan was going to compose a grantham to be named " Padha Kamala Sahasram ". Swami Desikan went ahead and completed in record time , a sthuthi on the PaadhukhA of the Lord , Swami NammAzhwAr .
We are reminded here of the message from Mettu Azhagiyasinghar at Srirangam during Kambhan's inauguration of Kambha RaamAyaNam . Sri Lakshmi Nrusimhan stopped Kambhan and asked him first to compose SatakOpa AnthAdhi and then get on with his inauguration .
Such is the affection of our PerumAl for His Thiruvadi (SatAri Soori ).Just as Sriman NaarAyaNan's Paadhukai is Sri satAri (NammAzhwAr ), Kuruhoor Nampi's Paadhkhai is Madhura Kavi , RaamAnujA's paadhukai is MudaliyANdAn , Swami Desikan's Paadhukai is NayinArAchAryan , we of the Ahobila matam SampradhAyam are Paadhukais ( Thiruvadis ) of Sri AdhivaNN SatakOpa Sri NaarayaNa YathIndhra MahA Desikan .
In his recent kaalakshEpam , H.H. Sri NaarAyaNa YathIndhra mahA Desikan has instructed us about the sthAna VisEsham of AchAryAs . In his KaNNInuNN SiRutthAmpu Paasura KaalakshEpam , he has instrcuted us that BhAgavathAs are greater than BhagavAN and AchAryAs are even grater than BhAgavathAs .
Out of their immesaurable DayA , our AchAryAs have given us upadEsam about PrApthi VirOdhis which prevents the Jivan from developing a ruchi for the Tattva thraya Jn~Anam and thus missing out on Moksham thru SaraNAgathi at the lotus feet of a SadaachAryan .Swami NammAzhwAr is at the head of the AchArya Paramparai in the list going upto three more levels that ends with Sriya: Pathi .
Thus the importance of Sri RanganAthA's niyamanam to Swami Desikan to compose a sthuthi of Swami NammAzhwAr becomes clear to us . It is only to provide Ujjeevanam for us .
Much of what I am going to add will be serving as a supplement to what Sri Murali Rangaswamy is going to post and will be extracted from the wonderful commentaries of great Mahaans like Abhinava Desika Sri UttaamUr Swamy and the composite vyAkhyAnam of ThErazhundhUr and AakkUr Sri Andavans . The Andavan Aasrama sampradhAyam is Sri RanganAtha PaadhukhA upAsana sampradhAyam .It is generally conceded that the PaarAyaNam of Sri PaadhukhA Sahasram of Swami Desikan will let one enjoy Periya PerumAL directly ( Prathyakshamiva Samvruttham ). Such is the power of Sri RanganAthan's Divya MaNi PaadhukhAs .Swami Desikan himself has pointed out the equality of the Mahimai of PaadhukhA sahasram with Srimadh Vaalmiki RaamAyaNam because of the auspiciousness of the subject matter ( DhatthE Mukhundha MaNi PaadhukayOr- nivEsAth , ValmIka sambhavagirA samathAm mamOkthi: ) and the many artha visEshams .
At many places in paadhukhA sahasram , Swami Desikan celebrates the sambhnadham of his grantham with that of Srimadh Vaalmiki RaamAyanam .
The Upanishads describe 32 ways to worship Sriman NaarAyaNan . Swami Desikan has helped us with 32 ways (Paddhathis )to worship the Lord's Paadhukhais,Swami NammazhwAr .
May we all enjoy the sacred grantham of Swami Desikan in days to come !
RaamAnuja DayA Paathram Jn~Ana VairAgya BhUshanam
Srimath VenkatanAthAryam VandhE VedAntha Desikam
AdiyEn ,
Oppiliappan Koil VaradAchAri SadagOpan